Are you planning to explore Australia's beautiful landscapes and vibrant cities on a budget? Well, we've got you covered! This guide will dive into Australia's exciting world of backpacker accommodation options, from hostels to farm stays.
As backpackers and budget travellers, we know how crucial it is to find affordable places to rest our weary heads while maximising our travel experiences. So, join us as we unravel the best budget-friendly options that will make your Australian adventure memorable and light on your wallet!
Hostel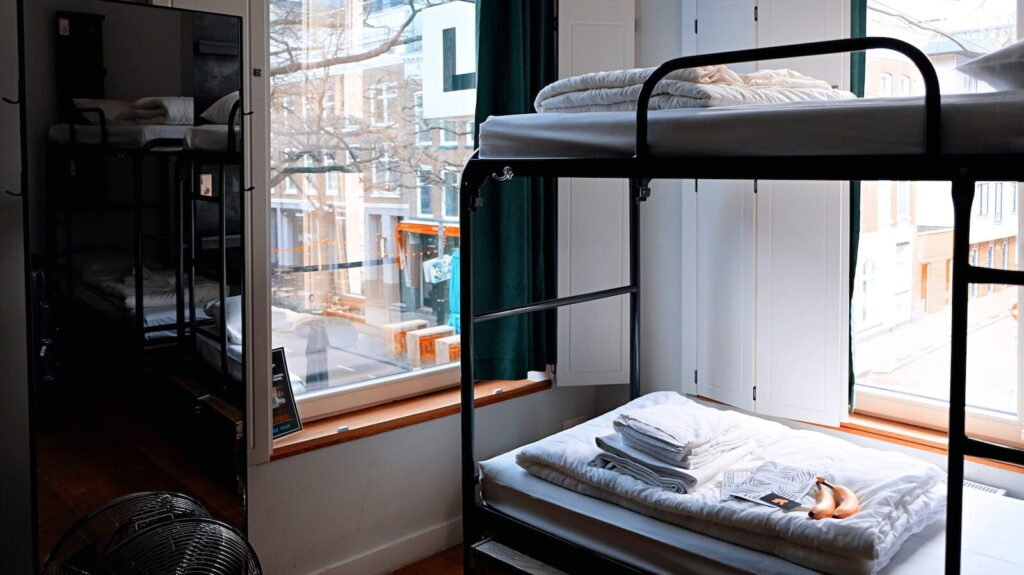 When it comes to backpacker accommodation in Australia, hostels are an excellent option for visitors seeking affordable and sociable places to stay. These lively establishments cater specifically to backpackers and provide a comfortable and communal atmosphere where you can meet fellow backpackers worldwide. Here's why hostels should be on your radar:
Affordability
One of the biggest advantages of staying in a hostel is affordability. Hostels offer dorm style rooms with bunk beds, allowing you to share a room with other travellers and split the costs. This arrangement is significantly cheaper than booking a private hotel room, making it ideal for budget-conscious backpackers.
Socialising opportunities
Hostels are renowned for their social atmosphere, providing plenty of opportunities to meet and connect with fellow travellers. Many hostels organise social events, group activities, and communal areas where you can mingle, share stories, and make new friends. It's an excellent way to expand your network and create unforgettable memories.
Facilities and amenities
Despite their budget-friendly nature, hostels often offer a range of facilities and amenities to ensure your stay is comfortable. Most hostels provide communal kitchens where you can cook meals, saving you money on dining out. In addition, you'll find areas like lounges, TV rooms, and outdoor spaces. Some hostels even offer free Wi-Fi, laundry facilities, and bike rentals.
Local knowledge and resources
Hostel staff members are typically friendly and well-versed in the local area. They can provide valuable insights, recommend nearby attractions, and assist with booking tours or transportation. Take advantage of their knowledge to make the most of your time in Australia and discover hidden gems off the beaten path.
Plenty of locations
Hostels can be found all across Australia, including major cities, coastal towns, and popular tourist destinations. This widespread presence ensures that no matter where you plan to explore, there's likely a hostel nearby. So whether you're diving into the urban buzz of Sydney, Melbourne, exploring the Great Barrier Reef, or hiking in stunning national parks, you'll have options for backpacker accommodation.
Hostel pricing
Prices can vary depending on the location and facilities offered. Dormitory beds can range from $20 to $50 per night, while private rooms may cost around $70 to $150 or more per night.
So, hostels are the way to go if you're seeking affordable accommodation with a vibrant social atmosphere and a chance to connect with fellow travellers. Remember to do your research to find the best backpacker hostels. So, embrace the backpacker spirit, pack your sense of adventure, and get ready to immerse yourself in the buzzing hostel culture that Australia has to offer.
Budget Hotels and Motels
If you're seeking a more traditional accommodation experience without breaking the bank, budget hotels and motels in Australia offer a convenient and affordable option. Here's why they can be an excellent choice for budget-conscious travellers:
Affordable comfort
Budget hotels and motels balance affordability and comfort. These establishments offer basic amenities and services at competitive rates, making them ideal for travellers who value convenience without compromising their budget. While they may not have the luxury and amenities of higher-end hotels, they provide clean and comfortable rooms that meet your essential needs.
Central locations
One of the advantages of budget hotels and motels is their prime locations in city centres or popular tourist areas. Staying at these establishments makes you close to major attractions, public transportation, restaurants, and shopping centres. It saves you time and money on transportation costs while giving you easy access to explore the destination on foot or via public transport.
Flexibility and privacy
Budget hotels and motels offer the advantage of having private space. You'll have a room for yourself or your group, providing privacy that can be particularly appealing after a long day of exploring. Additionally, many budget accommodations offer flexible check-in and check-out times, allowing you to tailor your stay according to your travel schedule.
Essential amenities
While budget hotels and motels may not offer extensive amenities, they provide critical facilities to make your stay comfortable. Most rooms have a private bathroom, a comfortable bed, a television, and Wi-Fi access. Some establishments may also have additional amenities, such as a communal kitchen or a shared lounge area, allowing you to prepare simple meals or relax in a communal space.
Local recommendations
The budget hotels and motel staff often know about the local area and can provide valuable insights and recommendations. They can suggest budget-friendly dining options, nearby attractions, and hidden gems that may be less well-known to tourists. Feel free to ask for their recommendations to enhance your travel experience.
Budget hotel and motel pricing
Prices for budget hotels and motels can range from $80 to $150 per night, depending on the location, amenities, and room type.
Budget hotels and motels offer a practical and cost-effective option for travellers seeking a comfortable stay without breaking their budget. Enjoy the convenience of central locations, essential amenities, and personalised recommendations from friendly staff.
Camping and Caravan Parks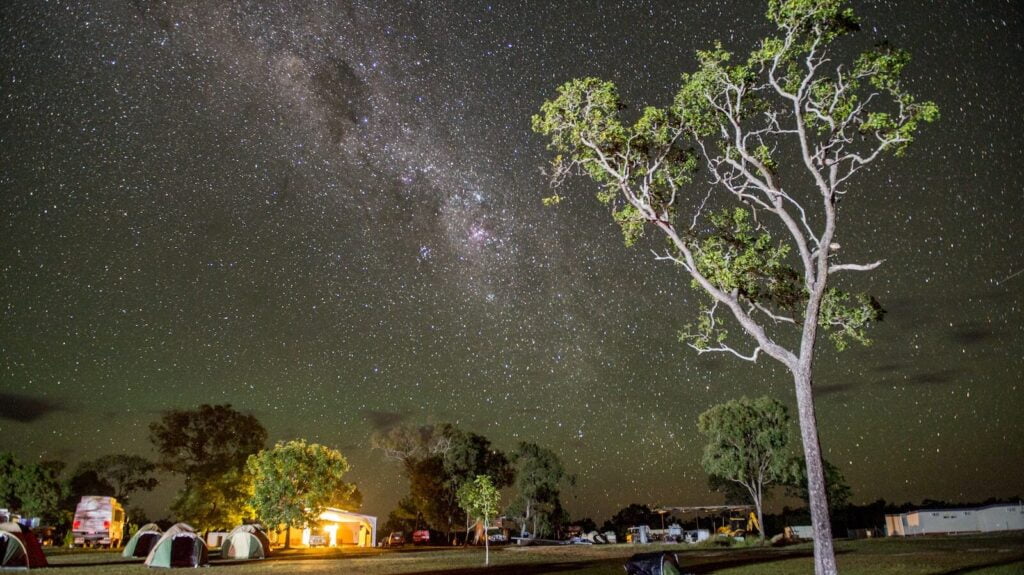 For budget-conscious travellers who love the great outdoors, camping and caravan parks in Australia provide a fantastic option for affordable accommodation. Whether you prefer pitching a tent or travelling in a camper van or RV, here's why camping and caravan parks should be on your radar:
Cost-effective accommodation
Camping and caravan parks offer some of Australia's most budget-friendly accommodation options. You can find a space that fits your needs and budget, ranging from unpowered tent sites to powered sites for campervans and caravans. In addition, camping fees are typically lower than a hotel or hostel addition; camping allows you to stretch your travel budget further.
Immersion in nature
Australia is renowned for its stunning natural landscapes, and camping allows you to fully immerse yourself in the country's beauty. Wake up to birds chirping, breathe in the fresh air, and witness breathtaking sunrises and sunsets from your campsite. Many camping and caravan parks are nestled in scenic locations, such as national parks, coastal areas, and iconic landmarks, offering an unforgettable experience.
Facilities and amenities
Camping and caravan parks provide a range of facilities and amenities to enhance your stay. These can include amenities blocks with hot showers and toilets, communal kitchens with cooking facilities, barbecue areas, and laundry facilities. Some parks may also have additional amenities like swimming pools, playgrounds, and campfire pits. These amenities ensure you have everything you need for a comfortable camping experience.
Community atmosphere
Camping and caravan parks often foster a sense of community among travellers. You'll find fellow campers from all walks of life, including families, backpackers, and retirees, creating a diverse and welcoming atmosphere. It's common to start conversations with neighbours, share travel tips, and join forces for outdoor activities or communal meals. The campground community can be a source of inspiration, camaraderie, and lifelong friendships.
Proximity to natural wonders
Many camping and caravan parks near Australia's most incredible natural wonders. From national parks with scenic hiking trails to pristine beaches and breathtaking waterfalls, you'll have easy access to these attractions right from your campsite. It's an opportunity to explore the country's natural beauty at your own pace and create memorable adventures.
Camping and caravan park pricing
Camping fees can vary, ranging from $10 to $40 per person per night for basic campsites. Caravan parks may charge around $30 to $60 per night for powered sites or cabins.
It's essential to be mindful of the environment and adhere to responsible camping practices. Always follow park rules, dispose of waste properly, and leave no trace behind to preserve the natural beauty for future visitors.
Whether you prefer setting up a tent under the stars in Queensland or travelling around Darwin in a camper van, camping and caravan parks offer a budget-friendly and nature-immersive accommodation option in Australia. Embrace the freedom of the outdoors, connect with like-minded travellers, and create unforgettable memories in some of the world's most awe-inspiring locations.
Alternative Backpacker Accommodation Options
In addition to the classic backpacker accommodation options mentioned above, several alternative choices are available for backpackers and budget travellers in Australia. These unique and unconventional options can add an exciting twist to your travel experience. Here are some alternative accommodation options to consider:
Farm stays
Farm stays offer a fantastic opportunity to immerse yourself in the Australian countryside for a taste of rural life and a break from the city. Many farms nationwide welcome guests, providing accommodation, meals, and the chance to participate in daily farm activities. From feeding animals to picking fresh produce, you can engage in hands-on experiences while enjoying the serenity of rural landscapes.
Eco-Lodges and Eco-Resorts
If you're passionate about sustainability and eco-friendly practices, consider staying at an eco-lodge or eco-resort. These accommodations prioritise environmentally conscious operations and often blend seamlessly with their natural surroundings. As a result, you can enjoy comfortable lodging while minimising your ecological footprint, positively impacting the environment.
Couchsurfing
Couchsurfing is a popular option for those seeking a truly local experience and an opportunity to connect with residents personally. It is an online platform where locals offer free accommodation to travellers. By staying with a host, you can gain firsthand insights into the destination, forge meaningful connections, and potentially make lifelong friends. However, it's essential to exercise caution, read reviews, and choose reputable hosts with positive feedback.
Volunteer exchanges
Another alternative accommodation option is participating in volunteer exchanges. Platforms such as Workaway, HelpX, and WWOOF (Willing Workers on Organic Farms) connect travellers with hosts who offer accommodation in exchange for a few hours of work each day. This arrangement allows you to contribute to a cause, learn new skills, and reduce travel expenses. From organic farming to community projects, various opportunities are available across Australia.
House sitting
House sitting involves caring for someone's home and pets while they are away in exchange for free accommodation. Websites like TrustedHousesitters connect homeowners with reliable house sitters. This option lets you stay in comfortable homes and experience local neighbourhoods while enjoying furry friends. It's an excellent choice for pet lovers and those who desire a home-like environment during travels.
Alternative accommodation pricing
The costs for alternative accommodation options such as farm stays, eco-lodges, or volunteering programs can vary widely. It's recommended to research and contact specific providers or organisations for accurate pricing information.
You can add a unique and memorable element to your Australian adventure by stepping outside the conventional accommodation choices. Whether living on a farm, embracing eco-friendly practices, connecting with locals through Couchsurfing, engaging in volunteer work, or house sitting, these alternative options offer authentic experiences and lasting memories. So choose the option that resonates with you and embark on a one-of-a-kind journey in Australia.
Tips for Finding the Best Backpacker Accommodation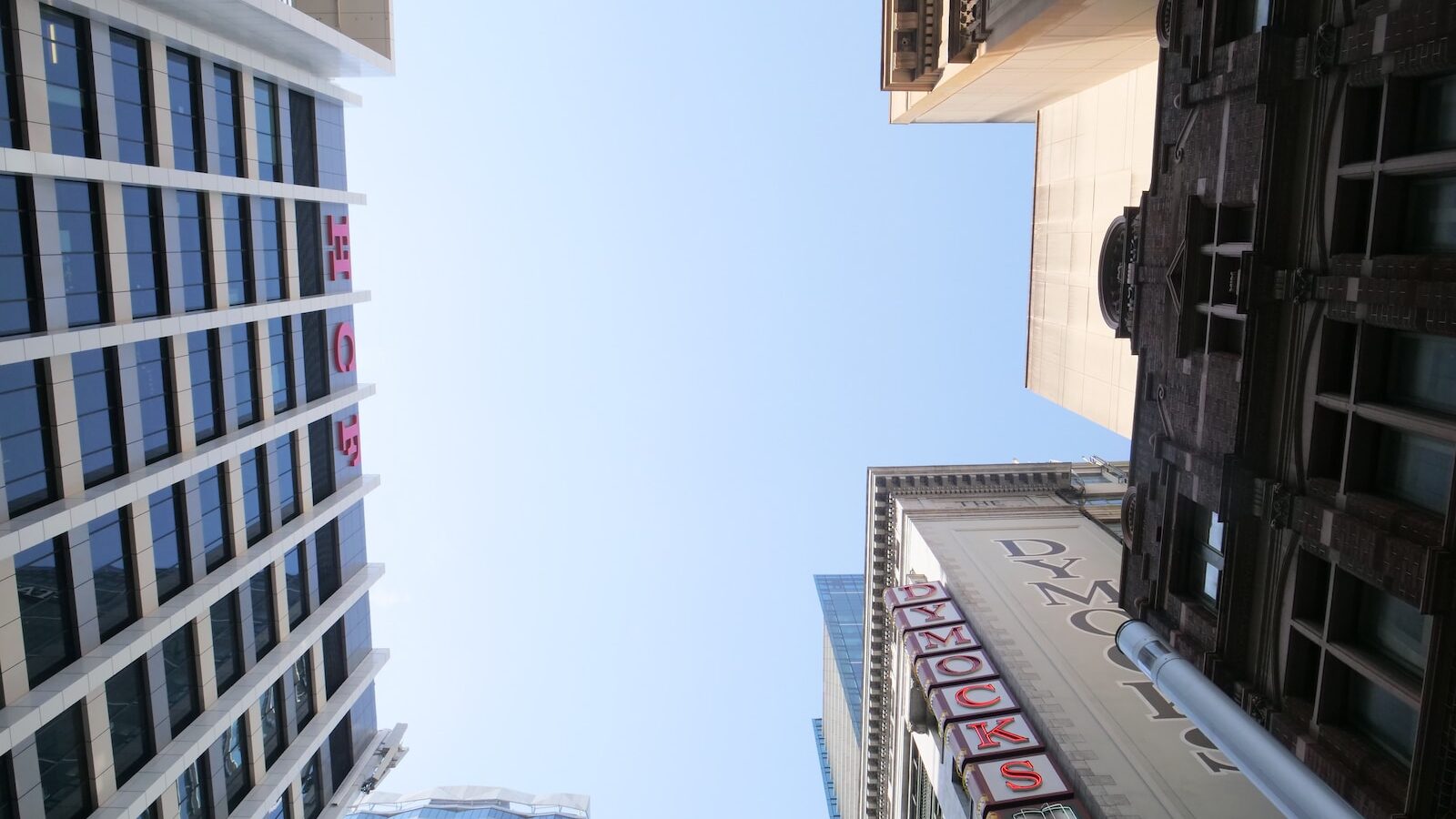 Finding the best backpacker accommodation can sometimes be challenging, especially when many options are available. To help you make the most of your travel budget and find the perfect affordable place to stay in Australia, consider these tips:
Plan and book in advance:
Booking your accommodation well in advance can often lead to better deals and availability. As soon as your travel dates are finalised, start researching and booking your capacity to secure the best rates.
Utilise online booking platforms:
Take advantage of online booking platforms and websites dedicated to budget accommodation. Platforms like Hostelworld, Booking.com, Airbnb, and Expedia offer a wide range of options, from hostels to budget hotels, allowing you to compare prices and read reviews from fellow travellers.
Check for special offers and promotions:
Watch for special offers and promotions. Many accommodations offer discounted rates or packages during certain times of the year or for extended stays. Sign up for newsletters or follow the social media accounts of accommodation providers to stay updated on any deals or discounts.
Consider location:
While finding affordable accommodation is essential, consider the location and its accessibility to the places you want to visit. Staying in centrally located accommodations or near public transportation can save you time and money on commuting.
Read reviews and ratings:
Read reviews and ratings from previous guests before booking. This can give you valuable insights into the quality of the accommodation, cleanliness, customer service, and overall experience. Look for accommodations with consistently positive reviews to ensure a comfortable stay.
Take advantage of membership programs:
If you frequently travel or plan to stay at a specific accommodation, consider joining membership programs. Hostel associations, hotel chains, and booking platforms often offer loyalty programs with additional discounts or benefits for members.
Consider shared accommodation:
Shared accommodation options such as dormitories in hostels or shared apartments can significantly reduce costs. If you are okay with sharing a room or common spaces with fellow travellers, this can be an excellent way to save money and meet like-minded individuals.
Explore local accommodation options:
While popular booking platforms are convenient, take notice of local accommodation options. Sometimes you can find better deals by contacting accommodations directly, especially smaller guesthouses or bed and breakfasts that may need to be listed online.
Travel during off-peak seasons: Accommodation prices are higher during peak travel seasons. If you have flexibility with your travel dates, consider visiting during the off-peak seasons when accommodation rates are lower. This can also mean fewer crowds and a more relaxed travel experience.
Ask for recommendations: Don't hesitate to ask for recommendations from fellow travellers, locals, or online travel communities. They may have valuable tips or suggestions for budget-friendly accommodations that need to be more widely known.
By following these tips and being proactive in your search, you can find excellent backpacker accommodation options that meet your needs and allow you to make the most of your travel budget. Remember to prioritise comfort, safety, and location while considering your budget. With careful planning and research, you'll be well on your way to finding the best backpacker accommodation in Australia.
Finding backpacker accommodation in Australia can be painless with the correct information. With the diverse range of options, you can find affordable places to stay that suit your budget, preferences, and travel style. Whether you choose backpacker hostels, camping and caravan parks, budget hotels and motels, homestays, or alternative accommodation options, there is something for every traveller.
Remember to plan ahead, use online booking platforms, and consider locations, reviews, and special offers. Take advantage of membership programs and explore local options for hidden gems. Travelling during off-peak seasons can also help you secure better rates and a more relaxed experience.