Welcome to the Ultimate Guide to Backpackers guide to East Coast Australia! This extensive guide covers everything you need to know for an unforgettable adventure, from popular destinations to budget-friendly accommodations. Get ready to explore the breathtaking beauty of Australia's East Coast with our top recommendations.
Discover fascinating tidbits about East Coast Australia
The East Coast of Australia spans over 4,000 kilometres
World-renowned attractions such as the Great Barrier Reef and the Whitsunday Islands
Great for road trips and exploring by campervan
Home to diverse wildlife, including kangaroos, koalas, and various bird species
Perfect for adventure seekers, nature lovers, and beach enthusiasts
Weather varies by region, with tropical climates in the north and temperate climates in the south
Best destinations to visit while backpacking on the East Coast
Byron Bay: Laid-back paradise
Byron Bay is a must-visit destination for backpackers looking for a laid-back atmosphere, stunning beaches, and world-class surf breaks. With its vibrant arts scene, delicious eateries, and iconic lighthouse walk, you'll quickly fall in love with this coastal gem.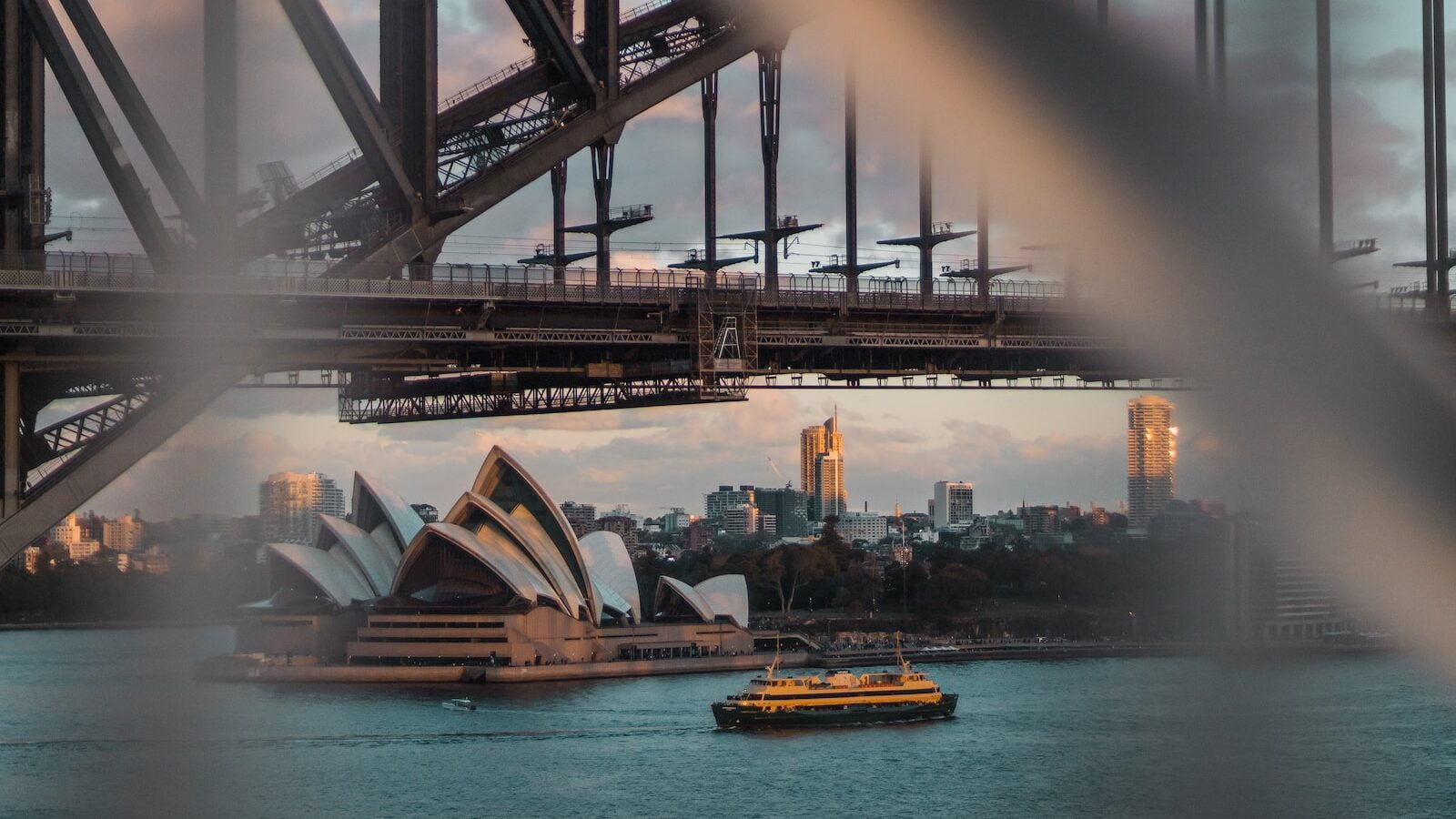 Sydney: The harbour city
Australia's largest city perfectly balances urban buzz and natural beauty. Wander around the iconic Opera House, take a scenic ferry ride to Manly, or hike the Bondi to Coogee Coastal Walk. Don't forget to explore trendy neighbourhoods like Newtown and Surry Hills to taste Sydney's eclectic culture. 
Fraser Island: Adventure awaits
Fraser Island is a must-visit destination for any East Coast backpacker. As the world's largest sand island and UNESCO World Heritage site, Fraser Island presents an unforgettable adventure for nature lovers. Embark on a 4WD tour to explore its lush rainforests, crystal-clear freshwater lakes, and magnificent sand dunes. Watch out for wild dingoes and humpback whales during their migration season!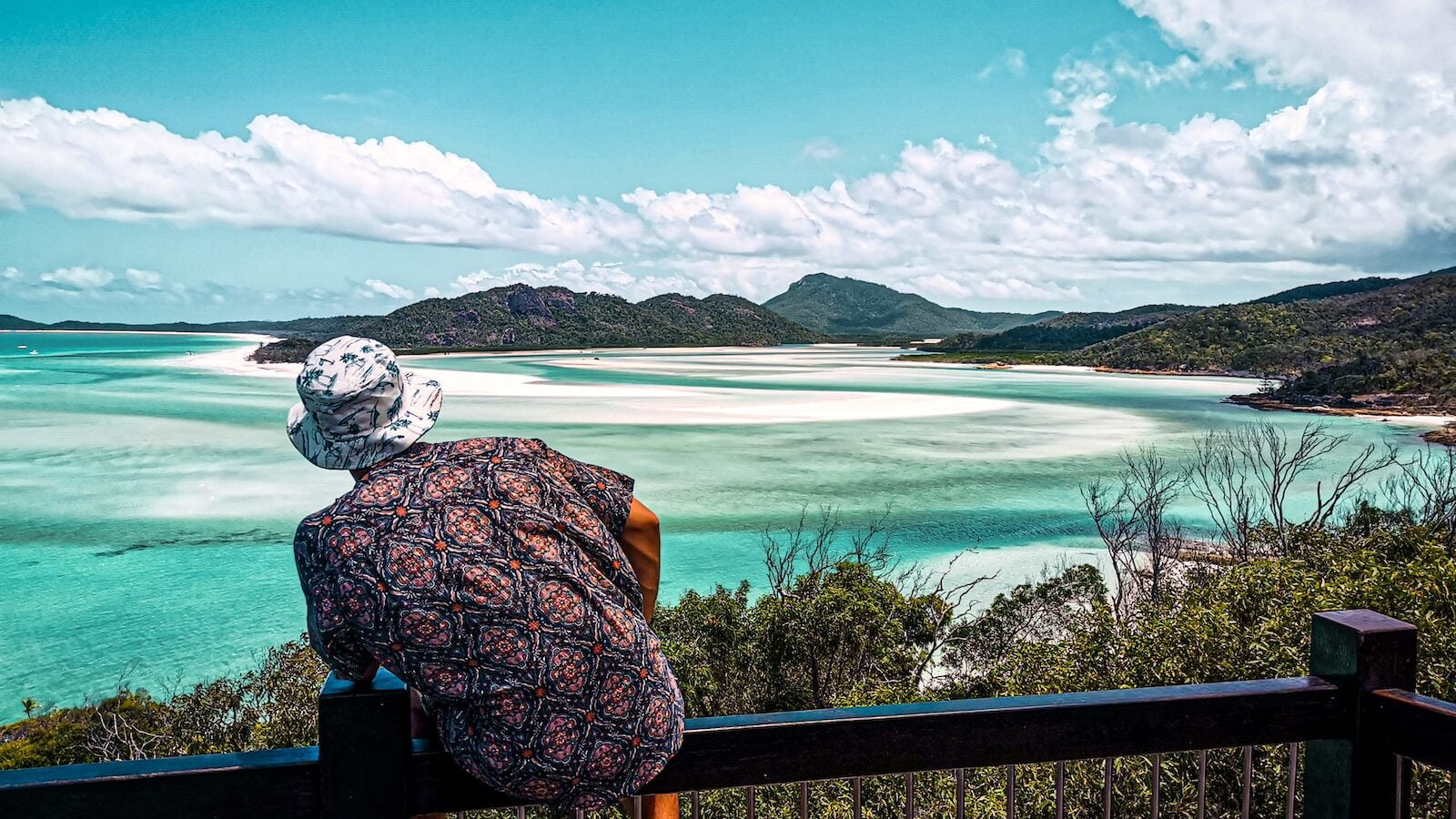 The Whitsunday Islands: Tropical paradise
Comprising 74 idyllic islands, the Whitsunday Islands are a true paradise for sun-seekers and sailing enthusiasts, boasting some of the world's most beautiful beaches, like the famous Whitehaven Beach. Join a sailing tour or rent a boat to explore the azure waters, vibrant coral reefs, and picturesque islands. Snorkelling and scuba diving are also popular activities in this idyllic region.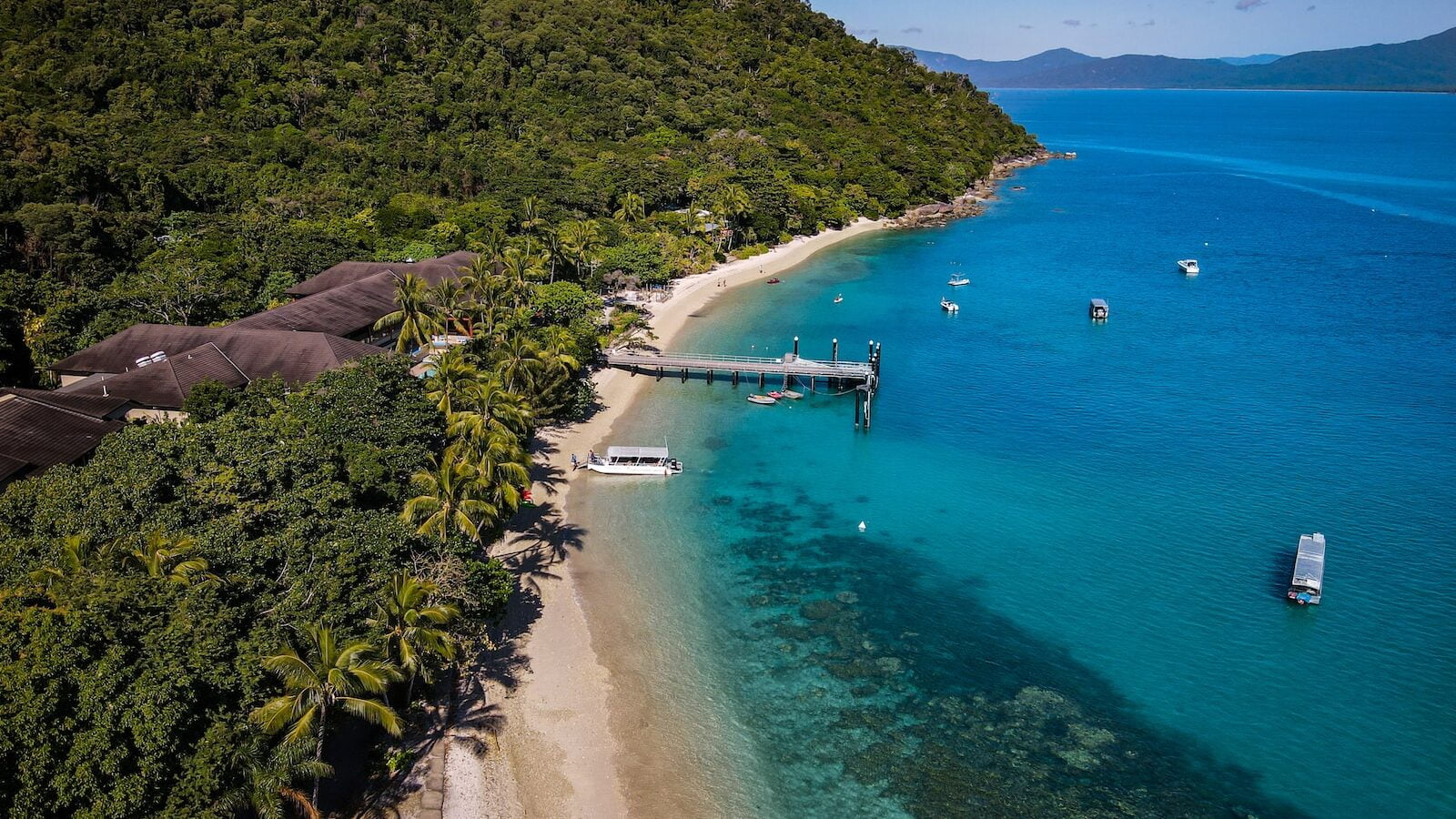 Cairns: Gateway to the Great Barrier Reef
Cairns is the perfect base for exploring the wonders of the Great Barrier Reef. Dive into the vibrant underwater world, teeming with colourful coral and marine life. On land, venture into the ancient Daintree Rainforest, enjoy the bustling nightlife, and experience the thrill of bungee jumping or white-water rafting.
How long does it take to backpack the entire East Coast?
So, you're wondering how long it takes to backpack the entire East Coast of Australia? Well, the answer varies depending on your travel style, the places you want to visit, and the amount of time you have. Generally, it takes 4 to 6 weeks to experience the best of the East Coast, but we've seen some travellers take up to 3 months!
Travel pace: Fast vs. Slow
You can cover the major highlights for the fast-paced traveller in about 4 weeks. However, if you prefer to take your time and soak in the culture, history, and natural beauty, you'll want to set aside 6 weeks or more. Remember, there's a lot to see, so be sure to factor in rest days! 
A tailored itinerary
When planning your East Coast adventure, create an itinerary that suits your interests and time constraints. Mix and match popular destinations, hidden gems, and local favourites to create a memorable and personalised trip.
Budget-friendly accommodations along the East Coast
Hostels: The backpacker's haven
Hostels are the go-to choice for budget travellers seeking a social and affordable stay. From the bustling streets of Sydney to the tropical paradise of Cairns, you'll find a variety of hostels offering dorm rooms and private options. YHA Australia and Nomads are popular chains with multiple locations along the coast.
Airbnb: Home away from home
For those looking for a more private and homely experience, Airbnb offers a range of budget-friendly lodging options. Choose from renting a single room or an entire apartment, and enjoy the local atmosphere. Pro tip: Booking a stay further away from city centres can often land you a cheaper deal!
Camping: Embrace the great outdoors
Australia's East Coast boasts numerous well-maintained campgrounds, perfect for immersing yourself in nature without breaking the bank. National parks, such as Royal National Park near Sydney and Frasier Island in Queensland, offer campgrounds with basic amenities. Keep an eye out for council-run caravan parks near the beach, and don't forget to pack a tent!
Transportation options for backpacking on the East Coast
Backpacking the East Coast of Australia is an experience of a lifetime, and having a grasp of the various transportation options is key to making the most of your adventure. From budget-friendly choices to more luxurious options, here's everything you need to know about getting around.
Buses
One of the most popular and budget-friendly options for backpackers is hopping on a bus. Companies like Greyhound and Premier Motor Service offer flexible hop-on-hop-off passes that allow you to travel at your own pace. With numerous stops along the coast, buses are a convenient and affordable way to explore the region.
Trains
For those who prefer a more scenic and comfortable journey, trains are a fantastic alternative. The Queensland Rail and NSW TrainLink networks connect major cities and towns along the coast, offering impressive views of the landscape. While train travel may be slightly more expensive than buses, the added comfort and unforgettable vistas make it worth the extra expense.
Car or campervan hire
If you're after the freedom to explore at your own pace, hiring a car or campervan is a popular choice among backpackers. Companies such as Jucy, Travellers Autobarn, and Spaceships offer a wide range of vehicles to suit your needs and budget. Remember to factor in fuel costs and consider splitting the expenses with travel buddies to make this option even more cost-effective.
Ridesharing
Another budget-friendly option, ridesharing is a great way to meet fellow travellers while reducing your environmental footprint. Websites like Coseats and Gumtree allow you to connect with drivers who have spare seats in their vehicles and are heading in the same direction. Just be sure to exercise caution and use your judgement when arranging rides with strangers.
Domestic flights
Internal flights can be a convenient option for those short on time or looking to cover vast distances quickly. Airlines such as Jetstar, Virgin Australia, and Qantas regularly offer discounted fares, making flying a surprisingly affordable choice. Just be sure to book in advance and keep an eye out for sales to snag the best deals. 
To summarise, there's no shortage of transportation options for backpackers exploring Australia's East Coast. Whether you're after the flexibility of a campervan, the affordability of a bus pass, or the comfort of a train journey, there's something to suit every traveller's preferences and budget.
Best time of year to backpack the East Coast
Deciding on the best time of year to backpack the East Coast of Australia can be challenging. However, the most popular time for travellers is between April and October, thanks to the comfortable climate and exciting events. Let's break it down by season, so you can choose the perfect time for your adventure. 
Summer: December to February
Summer in Australia can be hot and humid, especially in the northern regions. However, this is the perfect time to soak up the sun on the stunning beaches, attend outdoor festivals, and experience the vibrant nightlife. This is also peak season, so expect higher accommodation prices and more tourists. 
Autumn: March to May
Autumn brings cooler temperatures, making it an ideal time for hiking and outdoor activities. The changing foliage creates a beautiful backdrop for your adventures, and the weather is generally mild along the coast. Plus, you'll enjoy fewer crowds and more budget-friendly prices.
Winter: June to August
Winter is an excellent time to explore the southern regions of the East Coast, where temperatures are cooler but still comfortable for sightseeing. It's also the prime season for whale watching and attending winter festivals. However, it may be too cold for beach activities, and some attractions may have shorter opening hours.
Spring: September to November
Spring is a lovely time to visit the East Coast, with blooming flowers, pleasant temperatures, and an abundance of wildlife. This season offers great opportunities for outdoor activities, including hiking and exploring national parks. It's also the perfect time to visit the Great Barrier Reef, as visibility is at its best for snorkelling and diving.
In summary, there's no one-size-fits-all answer to the best time of year to backpack the East Coast of Australia. Consider your interests, budget, and weather preferences when planning your trip. No matter when you go, you will surely have an unforgettable experience.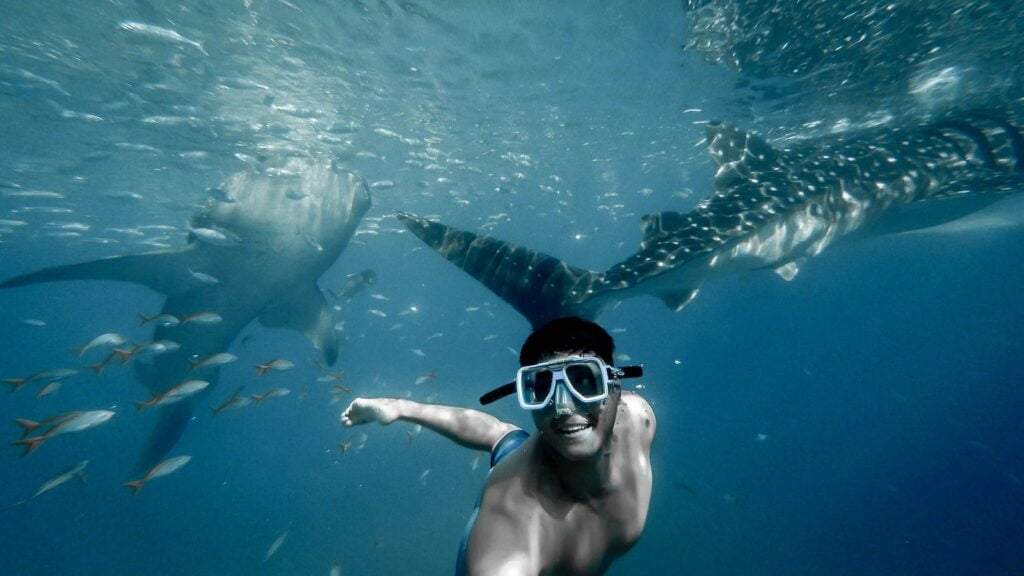 Unique experiences to have while backpacking the East Coast
Swim with the gentle giants: Whale sharks
For an unforgettable experience, head to Ningaloo Reef in Western Australia between March and August to swim with the majestic whale sharks. These gentle giants can grow up to 12 metres long, but don't worry; they're completely harmless and pose no threat to humans. Join a guided tour to ensure a safe and eco-friendly encounter. 
Embrace the adrenaline at the Gold Coast
Thrill-seekers look no further than the Gold Coast's theme parks. You'll be spoilt for choice with options like Warner Bros. Movie World, Sea World, and Wet'n'Wild. For an extra adrenaline rush, try skydiving or bungee jumping; plenty of operators offer these experiences along the coast. 
Discover the magic of bioluminescent waters
Imagine swimming in a sea that glows as you move through it. At certain times of the year, bioluminescent plankton light up the waters of Jervis Bay, creating a magical, otherworldly experience. Visit between May and November for the best chance of witnessing this natural wonder.
Step back in time at the ancient Daintree Rainforest
Estimated to be over 180 million years old, the Daintree Rainforest is one of Earth's oldest continually surviving rainforests. Hike through the lush greenery, spot rare and unique wildlife, and learn about the area's rich Indigenous culture. Be sure to visit the nearby crystal-clear Mossman Gorge for a refreshing dip. 
Popular activities to do while backpacking the East Coast
Exploring the Great Barrier Reef
Considered one of the world's natural wonders, the Great Barrier Reef is a must-visit destination. Snorkelling, scuba diving, or taking a glass-bottom boat tour are all fantastic ways to experience its vibrant coral and marine life up close.
Road-tripping the legendary Pacific coast 
Driving along the Legendary Pacific Coast is an unforgettable experience, offering stunning coastal views and picturesque beach towns. Renting a camper van or car allows you to set your own pace and explore hidden gems along the way.
Hiking in national parks 
The East Coast is home to numerous national parks, each with its own unique charm. Hike through lush rainforests, swim under cascading waterfalls, and encounter Australia's diverse wildlife in places like Lamington National Park or the Blue Mountains.
Exploring vibrant cities 
From bustling Sydney to laid-back Byron Bay, the East Coast boasts a variety of vibrant cities and towns. Delve into Australia's rich history, sample local cuisine, and soak up the lively atmosphere as you backpack along the coast.
Honourable mentions
For thrill-seekers and beach lovers, the East Coast offers world-class surfing spots and adrenaline-pumping activities like skydiving. And if you're a wine enthusiast, don't miss the chance to taste exquisite Australian wines in the Hunter Valley region.
Average costs of backpacking the East Coast
Embarking on an East Coast adventure doesn't have to break the bank. With a bit of research and savvy planning, you can enjoy this stunning region without emptying your wallet. Let's dive into the average costs you can expect while backpacking on the East Coast of Australia. 
Accommodation
Choosing budget-friendly hostels is the key to keeping your costs low. On average, you can expect to pay around A$25-40 per night for a dorm bed. Private rooms will set you back A$60-100 per night, depending on the location and amenities.
Transportation
Public transport is your best friend when traversing the East Coast. A bus pass from Sydney to Cairns, for example, will cost around A$350-450. Alternatively, consider renting a car or campervan for more flexibility, but remember to factor in fuel costs and potential one-way fees.
Food and drink
Eating out in Australia can be pricey, so self-catering is the way to go. Allow A$50-70 per day for groceries and the occasional meal out. As for drinks, a beer in a pub usually costs around A$8, so socialising can add up quickly – consider buying alcohol at a bottle shop and enjoying a drink with fellow travellers at your hostel.
Activities and attractions
Australia's East Coast is brimming with unforgettable experiences, but they can come with a price tag. For instance, a Great Barrier Reef trip is a must, but it will set you back A$100-250. Other attractions, like visiting Fraser Island or skydiving, also have varying costs. To save on activities, search for package deals or discounts online and try to balance out expensive excursions with free or low-cost adventures like hiking or exploring national parks.
A reasonable daily budget for backpacking the East Coast of Australia is around A$100-150, depending on your travel style and preferences. With careful planning and smart choices, you can experience the trip of a lifetime without breaking the bank.
The East Coast of Australia offers a treasure trove of experiences for every type of backpacker. From the bustling cities to the serene natural wonders, you'll leave with memories to last a lifetime. So pack your bags and embark on the adventure of a lifetime along this breathtaking coastline, and prepare to be captivated by the beauty of Australia's East Coast.